If you're searching for a top plastic surgeon, it's time to meet with Dr. Jones.
1375 E 800 N, Suite 205
Orem, UT 84097
Monday: 9am - 5pm
Tuesday: 9am - 5pm
Wednesday: 9am - 5pm
Thursday: 9am - 5pm
Friday: 9am - 5pm
Saturday & Sunday: Closed
Utah's Preferred Face Lift Surgeon
Did you know that over 90% of women feel "highly satisfied" with their facelift results?
Everyone has their own reasons for getting a facelift, but here are some of the most common that we hear from our own patients:
I want to reduce sagging and wrinkles
I want to look younger
I want to improve my face's symmetry and balance
I want to remove excess fat and tighten underlying muscles
I want to feel more confident!
Do any of these sound like you? If so, then a facelift might be just what you're after.
"I'm so happy with my facelift. I feel like a totally different person…thank you Dr. Jones!"
What exactly is a face lift?
A facelift, also known as a rhytidectomy, is a surgical procedure used to reduce signs of aging in the face and neck.
This cosmetic procedure can help to improve sagging skin, wrinkles, and other age-related changes to the face by removing excess fat and tightening underlying muscles.
It can also be used to enhance facial symmetry and balance, as well as improve the shape of the jawline, chin, or cheekbones.
In addition to these aesthetic benefits, a facelift can also reduce lines around the nose and mouth, improve hollows in the cheeks or eyes, reverse sun damage, and even help to boost your self-confidence.
"I used to be so unhappy with how I looked, but after my face lift with Dr. Jones, I'm full of confidence. He was so nice and made me feel like he really listened."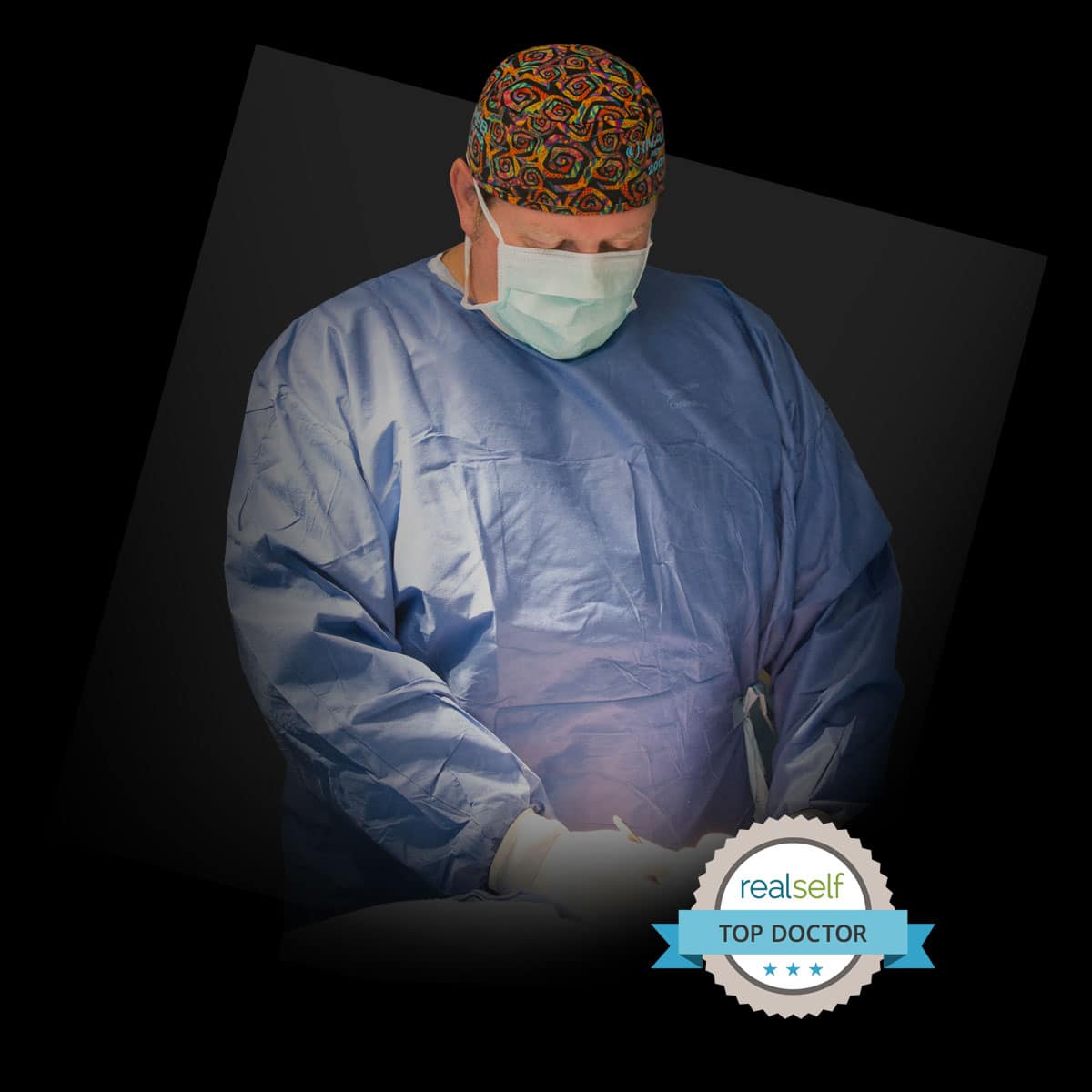 There are tons of reasons to choose Dr. Jones for your face lift in Utah!
Dr. Jones has devoted 25 years to honing his expertise and delivering exceptional results for his patients.
He is a board-certified plastic surgeon by the ASPS, with thousands of successful procedures already under his belt. Countless patients like you have benefitted from Dr. Jones's face lift techniques that produce better results and greater confidence!
To gauge the success of any surgical procedure, patient satisfaction is key.
Dr. Jones stands out as one of Utah's top-ranked plastic surgeons on Real Self and continues to be the go-to choice for facelift operations across the state.
This translates into safer practices with minimal scarring and shorter recovery periods...plus stellar outcomes!
If you're searching for the perfect place to have a face lift, look no further than Dr. Jones' Cascade Cosmetic Surgery Center and Medical Spa!
Not only does it offer all of the treatments you need in one convenient location, but our flexible scheduling makes arranging your surgery simple and stress-free.
With Dr. Jones, every step of your procedure – from initial consultation to postoperative monitoring – will be taken care of with ease.
"Dr. Jones truly helped me roll back the clock, and I really feel like I look BETTER now than I did ten years ago."
Have questions about face lifts in Utah? We have answers!
1. Am I a good candidate for a facelift?
If you are looking to reduce signs of aging and create a more youthful, refreshed look, then you may be a good candidate for a facelift.
Factors that can make you an ideal candidate for this type of cosmetic surgery include: having skin that has lost its elasticity or tone due to age; deep wrinkles or sagging around the cheeks, jawline, and neck; jowls or a weak chin profile; and excess fatty deposits in the face.
Additionally, you should be in good physical health and have realistic expectations for what can be achieved with the procedure.
A consultation with an experienced plastic surgeon will help determine your candidacy for facelift surgery.
2. What are the different types of facelifts?
The different types of facelift procedures vary in the extent to which they address facial aging.
A mini facelift, or weekend lift, is a less invasive procedure that focuses on the lower part of the face, such as the jawline and neck area. It can be used to reduce wrinkles and sagging around the mouth and chin.
A traditional facelift, also known as a full rhytidectomy, is more extensive. It can address facial wrinkles and sagging in multiple areas, including the cheeks, jawline, and neck.
A mid-facelift is a variation of a traditional facelift that focuses on the mid-face area, including the cheeks, nasolabial folds (smile lines), and jowls.
Your plastic surgeon can help you determine which type of facelift is best suited to your needs and desired outcomes.
3. What are the risks and complications associated with facelifts?
Like any surgical procedure, facelifts carry certain risks and potential complications. These include scarring, infection, nerve damage, bleeding or hematoma formation, and changes in skin sensation.
Factors such as smoking or having underlying medical conditions can increase the risk of these complications. It is important to discuss all of the possible risks and benefits of the procedure with your plastic surgeon before undergoing a facelift.
4. How do I choose a surgeon for my facelift?
Finding an experienced and reputable plastic surgeon is one of the most important steps in your facelift journey.
Look for a board-certified plastic surgeon with experience in performing facelift procedures. Ask your surgeon questions about their credentials, past results, and safety protocols.
5. What is the average cost of a facelift?
The cost of facelift surgery can vary depending on the complexity of the procedure and your geographic location.
On average, traditional facelift costs range from $8,000 to $15,000. Mini-facelifts range from $3,500 to $7,000. However, the exact cost of your surgery will be determined by your plastic surgeon during the consultation process.
6. How should I prepare for my facelift surgery?
Prior to your facelift surgery, your plastic surgeon will provide detailed instructions on how to prepare for the procedure. In general, you should avoid taking any medications or supplements that can interfere with blood clotting, such as aspirin.
You should also make arrangements for someone to escort you home after the surgery. Additionally, it is important to discontinue smoking at least two weeks prior to surgery in order to reduce the risk of complications.
7. What can I expect during and after my facelift surgery?
Before your facelift surgery, you will receive instructions from your plastic surgeon about the specific procedure being performed.
During the procedure, you may feel some tugging or pulling sensations as the surgeon makes adjustments to your facial tissue. After surgery, you will likely experience some swelling and bruising for about one to two weeks.
Your plastic surgeon will provide you with detailed post-operative instructions, such as how to care for your incisions and protect them from further damage.
8. Will I have visible scars after my facelift?
The amount and visibility of scarring can vary from person to person. Your plastic surgeon will place incisions behind the hairline or in natural facial creases to minimize the visibility of the scars.
Additionally, your surgeon may use special suturing techniques to help reduce scarring. With proper healing and care, any scars should fade over time.
9. How long will the results of my facelift last?
Generally, the effects of a facelift can last for up to 10 years or more. The longevity of your results will depend on your age, skin laxity, and lifestyle habits.
To help maintain your results, it is important to practice good skincare habits, such as wearing sunscreen and avoiding excessive sun exposure.
10. Are there non-surgical alternatives to a facelift?
Non-surgical alternatives to a facelift can provide temporary improvements in the appearance of wrinkles and sagging skin. The most popular non-surgical alternatives include dermal fillers, platelet-rich plasma therapy, and laser skin resurfacing.
11. Are facelift results permanent?
No, facelift results are not permanent. As the skin ages and is exposed to environmental factors such as sun exposure, the effects of a facelift will gradually diminish over time. To maintain your results, it is important to follow good skincare habits and limit sun exposure.
12. Is a facelift in-patient or out-patient?
Most facelift procedures are performed on an outpatient basis. Depending on your health and the complexity of the procedure, you may need to stay overnight at the hospital or surgery center.
Your plastic surgeon will be able to provide more specific information about what type of procedure is best for you.
Dr. Jones vs. Other Plastic Surgeons
Because "good" isn't good enough.
Trenton C. Jones MD
Board Certified Plastic Surgeon

Board-Certified

Private surgery center

25 years of experience

Thousands of happy patients

Flexible scheduling

Individualized approach

Team always on-call

Top education & training

Cutting-edge procedures

Utah Plastic Surgery Society