If you're searching for a top breast augmentation surgeon in Utah, it's time to meet with Dr. Jones.
1375 E 800 N, Suite 205
Orem, UT 84097
Monday: 9am - 5pm
Tuesday: 9am - 5pm
Wednesday: 9am - 5pm
Thursday: 9am - 5pm
Friday: 9am - 5pm
Saturday & Sunday: Closed
Utah's Preferred Breast Augmentation Surgeon
Did you know that just 34% of women are happy with their bust — compared to 93% after a breast augmentation?
Everyone has a different reason for choosing breast augmentation. Do any of these sound like you?
I want to increase the size of my breasts
I want to improve the symmetry of my bust
I want to restore a more youthful appearance
I want more self-confidence
I want my clothes to fit and look better
I want to restore volume after weight loss or pregnancy
If so, great! It sounds like a breast augmentation might be just what you're looking for.
"I used to be so unhappy with how I looked, but after my breast augmentation with Dr. Jones, I'm full of confidence. He was so nice and made me feel like he really listened."
What exactly is a breast augmentation?
A breast augmentation, also known as augmentation mammoplasty, is a surgical procedure used to increase the size and shape of a woman's breasts.
This procedure may be performed for reconstructive purposes or for cosmetic reasons. In most cases, an implant is inserted beneath the existing breast tissue and overlying skin to enhance the size and shape of the breast.
Candidates for this type of surgery include women who have lost volume in their breasts due to pregnancy or weight loss, those with asymmetrical breasts or those who simply desire larger breasts.
Modern breast augmentation has been around for decades — it's considered safe and highly effective, and it's one of the most popular cosmetic procedures in the world.
"I'm so happy with my boob job. I feel like a totally different person…thank you Dr. Jones!"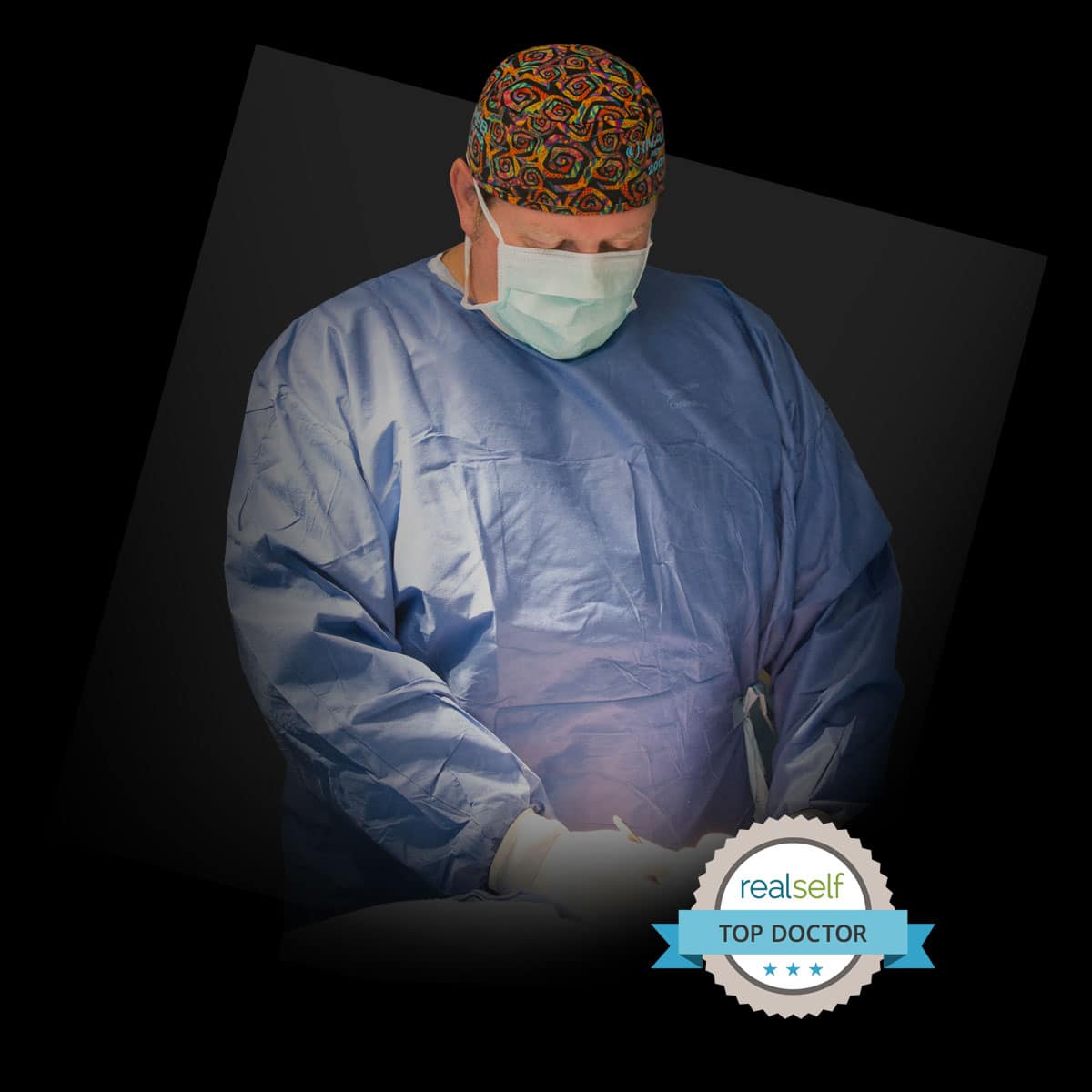 There are tons of reasons to choose Dr. Jones for your breast augmentation in Utah!
From top medical schools to training at prestigious medical centers, Dr. Jones has been working for 25 years to gain the experience needed to deliver the incredible results his patients desire.
Dr. Jones is a board-certified plastic surgeon by the ASPS with thousands of successful procedures performed to date. That means he's helped many, many women like you achieve better bodies and higher confidence through the power of breast augmentation.
The only real way to measure surgery success is through patient happiness.
Dr. Jones is ranked one of Utah's top plastic surgeons on Real Self, and people from all over Utah continue to choose him as their preferred breast augmentation surgeon.
For you, that means safer procedures with minimal scarring and less down time...and better results.
Most surgeons don't have their own surgery center, but Dr. Jones' full-featured Cascade Cosmetic Surgery Center and Medical Spa offers everything you need for a successful breast augmentation.
From start to finish, all of your meetings with Dr. Jones will take place under the same convenient roof. And with flexible scheduling, planning your breast augmentation has never been easier.
Have questions about breast augmentations in Utah? We have answers!
1. What is breast augmentation?
Breast augmentation is a surgical procedure that involves the use of implants to increase the size and shape of a woman's breasts. Implants can be used to enhance both breast volume and cleavage, or just one.
The type of implant used will depend on what the patient desires and her surgeon's recommendation.
2. What are the benefits of breast augmentation?
The primary benefit of breast augmentation is an improved body image. Most women experience increased self-confidence and feel more attractive after their surgery.
It can also restore lost volume to the breasts due to aging, pregnancy, breastfeeding, or significant weight loss. The procedure can also correct asymmetrical breasts and help even out overall breast shape.
3. What are the risks of breast augmentation?
As with any surgical procedure, there are potential risks associated with breast augmentation. These include bleeding, infection, and adverse reactions to anesthesia. There is also a risk of scarring or changes in sensation in the breasts. It is important that you discuss all of these risks with your doctor before undergoing surgery.
4. How do I know if breast augmentation is right for me?
Breast augmentation isn't for everyone, and it's important to make sure the procedure is right for you. You should talk to your doctor about your desired results, any medical conditions you have, and any medications or supplements you are taking.
Make sure to ask questions about what is involved in the procedure and the risks associated with it. Only after careful consideration should you decide whether breast augmentation is right for you.
5. What are the different types of breast implants?
There are two main types of breast implants: saline and silicone. Saline implants are filled with salt water, while silicone implants are filled with a silicone gel. Both types come in different shapes and sizes, so your doctor can help you decide which one will work best for you.
Additionally, some surgeons may offer fat transfer augmentation, where excess fat is surgically removed from elsewhere in the body to be used as an implant. Dr. Jones uses either Mentor and Sientra silicone implants, or Mentor saline implants, depending on the patient's needs.
6. What implant size should I choose?
The size of the implant that you choose should be based on your desired results and what will look best for your body shape.
Your surgeon can help you decide the right size for you by showing you images of results with different sizes. It's important to remember that implants are not permanent, so if you feel like your implants are too large or too small, you can always have them adjusted or removed.
7. What implant shape should I choose?
The shape of the implant you choose depends on your desired result. Round implants can give a fuller look to the breasts, while teardrop implants may give a more natural appearance.
You should discuss with your surgeon which shape would be best for you and show them images of what you want your results to look like.
8. What is the difference between silicone and saline implants?
Silicone implants are filled with a soft, silicone gel, while saline implants are filled with salt water. Silicone implants tend to look and feel more natural than saline implants. Ultimately, you should discuss with your doctor which type of implant is best.
9. How long until I see my full results?
The results of breast augmentation are usually visible immediately after the procedure. However, it can take several weeks for your breasts to fully settle into their new shape.
During this time, they may appear slightly swollen, but the swelling should subside in a few weeks. Your full results should be visible within 3-6 months after surgery.
10. Where will my implants be placed?
The location of the implants depends on your desired results. Generally, implants are placed either in front of or behind the chest muscle.
Implants placed in front of the muscle may create a more dramatic look, while those placed behind the muscle may provide a more natural appearance. Your surgeon will discuss with you what placement is best for you.
11. How long does breast augmentation surgery take?
The length of the surgery depends on the type and size of implant you choose, as well as the placement.
Generally speaking, breast augmentation can take anywhere from one to two hours. Your surgeon will be able to give you a more exact timeline when they discuss your procedure with you.
12. What is recovery like after breast augmentation surgery?
The recovery time for breast augmentation surgery varies from patient to patient. Generally, you should expect some bruising and swelling in the weeks following your surgery, as well as soreness in the chest area.
You will need to limit strenuous physical activity while you are recovering, but your doctor can provide more specific instructions on how best to care for yourself.
Dr. Jones vs. Other Plastic Surgeons
Because "good" isn't good enough.
Trenton C. Jones MD
Board Certified Plastic Surgeon

Board-Certified

Private surgery center

25 years of experience

Thousands of happy patients

Flexible scheduling

Individualized approach

Team always on-call

Top education & training

Cutting-edge procedures

Utah Plastic Surgery Society