If you're searching for a top labiaplasty surgeon, it's time to meet with Dr. Jones.
1375 E 800 N, Suite 205
Orem, UT 84097
Monday: 9am - 5pm
Tuesday: 9am - 5pm
Wednesday: 9am - 5pm
Thursday: 9am - 5pm
Friday: 9am - 5pm
Saturday & Sunday: Closed
Utah's Preferred Labiaplasty Surgeon
Did you know that many women are unhappy with the appearance of their vagina — compared to 97% patient satisfaction with labiaplasty?
There are tons of reasons for wanting a labiaplasty, and these are some of the ones we hear the most from our patients:
I want to reduce pain and discomfort during sports and physical activities
I want to restore my body after childbirth
I want to improve the symmetry of my labia
I want to feel less pain during sex
I want to feel more confident!
Do any of these sound like you? If so, then great! A labiaplasty could be for you.
"I'm so happy with my labiaplasty. I feel like a totally different person…thank you Dr. Jones!"
What exactly is a labiaplasty?
Labiaplasty is a surgical procedure that reshapes or reduces the size of the labia minora, which are the inner folds of skin surrounding the vagina.
This procedure can be performed on one or both sides to create a more aesthetically pleasing appearance in the genital area and can also help address medical issues such as chronic irritation or discomfort during physical activities.
Labiaplasty is a popular option for women who want to restore their femininity and feel more confident about their bodies.
"I used to be so unhappy with how I looked, but after my labiaplasty with Dr. Jones, I'm full of confidence. He was so nice and made me feel like he really listened."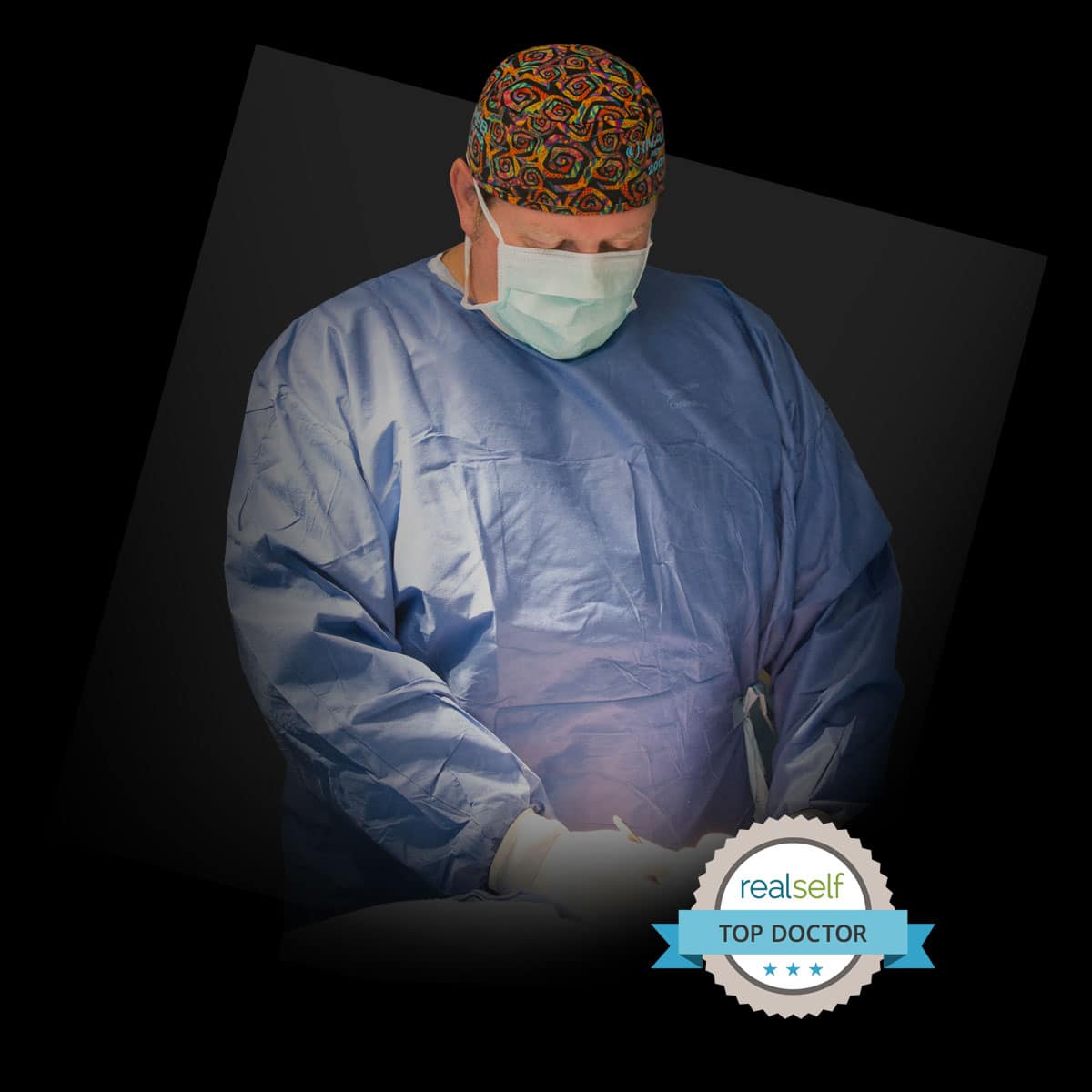 There are tons of reasons to choose Dr. Jones for your labiaplasty in Utah!
For over a quarter of a century, Dr. Jones has honed the experience and knowledge necessary to provide his patients with excellent results.
Having been board-certified by the ASPS as plastic surgeon, he's accomplished thousands of procedures for satisfied patients so far. That means he's assisted many women similar to yourself in gaining more self-confidence through labiaplasty surgery!
It is well-known that patient satisfaction is the only reliable way to gauge surgical success. After being rated one of Utah's top plastic surgeons on Real Self, it's clear that Dr. Jones puts his patients first.
With him at your side throughout every stage of your journey, you can trust in a safe procedure with minimal scarring accompanied by rapid healing times and exceptional results!
Have you been considering labiaplasty? If so, Dr. Jones' Cascade Cosmetic Surgery Center and Medical Spa is the perfect place for you!
Get a tailored experience from start to finish in one comfortable spot — no trips to uncomfortable hospitals needed.
Plus, benefit from our flexible scheduling options when planning out your procedure for extra convenience.
"After kids, my body just wasn't the same. Dr. Jones truly helped me roll back the clock, and I really feel like I look BETTER now than before I gave birth."
Have questions about labiaplasty in Utah? We have answers!
Labiaplasty is a surgical procedure that involves the reshaping or reduction of the labia minora, which are also known as inner lips.
This type of surgery can improve the appearance and symmetry of the labia minora, reduce discomfort caused by large or asymmetrical labia, and treat any damage due to aging or childbirth.
2. What are the benefits of labiaplasty?
Labiaplasty offers several benefits for patients, including improved physical comfort and self-confidence.
By reducing the size of the labia minora, this procedure can reduce pain or discomfort associated with enlarged labia during exercise, sexual intercourse, and even everyday activities such as wearing tight clothing.
Additionally, the aesthetic results of a labiaplasty can be quite significant, resulting in a more symmetrical and aesthetically pleasing genital area.
3. Are there any risks associated with labiaplasty?
As with any surgical procedure, there are some risks associated with labiaplasty, including infection, scarring, and changes in sensation.
Additionally, some patients may be at a higher risk of complications due to health conditions such as diabetes or circulatory problems.
However, taking steps to properly prepare for the procedure, such as avoiding certain medications and maintaining a healthy lifestyle, can help minimize these risks.
4. How do I know if I need labiaplasty?
It is important to speak with your doctor if you have any concerns about the appearance or size of your labia minora.
Your doctor can evaluate your individual case and advise you on the best course of action. He or she may also refer you to a specialist for further evaluation.
5. What are the different types of labiaplasty?
The two main types of labiaplasty are clitoral hood reduction and labia minora reduction.
Clitoral hood reduction is a procedure that reduces the size of the clitoral hood, while labia minora reduction is a procedure to reduce the size and reshape the labia minora.
6. What is the difference between a clitoral hood reduction and a labia minora reduction?
The only difference between the two is that with a clitoral hood reduction, only the tissue surrounding the clitoris is removed or reshaped.
In a labia minora reduction, the entire length of the inner lips is reduced and reshaped.
Additionally, with a labia minora reduction, the surgeon may also suggest a clitoral hood reduction.
This is done to maintain symmetry in the area after the labia minora has been reshaped.
7. How do I choose a labiaplasty surgeon?
It is important to take your time when choosing a labiaplasty surgeon.
Make sure to research the doctor's credentials, such as board certification and experience, and read reviews from previous patients.
Be sure to visit the doctor's office in person to discuss your case and ask any questions you may have.
8. How do I prepare for my labiaplasty surgery?
Prior to your labiaplasty surgery, your surgeon will provide you with instructions on how to prepare.
This usually includes avoiding certain medications and supplements, abstaining from alcohol, and avoiding any strenuous activities.
Additionally, your doctor may recommend that you shower the night before or morning of surgery and wear comfortable, loose-fitting clothes on the day of your procedure.
Following all preoperative instructions will help ensure a safe and successful surgery.
9. What can I expect during and after my labiaplasty surgery?
During your labiaplasty surgery, you will likely be administered general anesthesia. Once the procedure is complete, your doctor may apply a dressing or sutures to the area, and you may also be given a prescription for an oral antibiotic.
After surgery, your doctor will likely recommend taking several days off work to recover and will provide you with postoperative instructions.
These may include avoiding strenuous activity, avoiding sexual intercourse, taking oral medications and/or using topical ointments, and scheduling follow-up appointments.
10. How long does labiaplasty surgery take?
The duration of the labiaplasty procedure depends on the extent of the surgery and the individual patient. However, most procedures take one to two hours. Your surgeon will be able to provide you with a more accurate estimate of the duration of your procedure prior to surgery.
11. How much does labiaplasty surgery cost?
The cost of a labiaplasty procedure can vary depending on the extent of surgery and the individual patient. On average, labiaplasty surgery costs between $2,500 and $5,000.
12. What are the chances of labiaplasty surgery being covered by insurance?
In most cases, insurance does not cover the cost of labiaplasty surgery.
However, it is best to check with your individual provider for more information about coverage and reimbursement. Some doctors (like Dr. Jones) offer financing.
Dr. Jones vs. Other Plastic Surgeons
Because "good" isn't good enough.
Trenton C. Jones MD
Board Certified Plastic Surgeon

Board-Certified

Private surgery center

25 years of experience

Thousands of happy patients

Flexible scheduling

Individualized approach

Team always on-call

Top education & training

Cutting-edge procedures

Utah Plastic Surgery Society